Mutual Transfer Registration page.

Fill up the detail form and Submit for one time register. West Bengal School Teacher and non-taching staff.


ABSOLUTLY FREE OF CHARGE.
Registration/Login/After logging viewing matching profile etc. all are absolutely free.
Links

Login here
USER LOGIN
Updates
Visit the website frequently for latest updates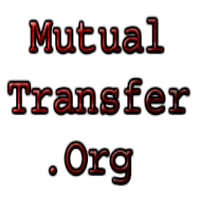 One Time Registration
Registration of West Bengal School Teachers & Non-teaching Staff for Mutual Transfer.
Disclaimer: The website www.mutualtransfer.org is not associated with Official website or Officials of WBSSC or WBBSE or WBCHSE. The website gives the teachers/staff scope to find match for Mutual Transfer.
Other Mutual
Madrasah Teacher Mutual

West Bengal Madrasah Teacher Mutual Transfer

Website of WBMSC

Primary Teacher Mutual

West Bengal Primary Teacher Mutual Transfer

Website of WBBPE MUTUAL
More updates